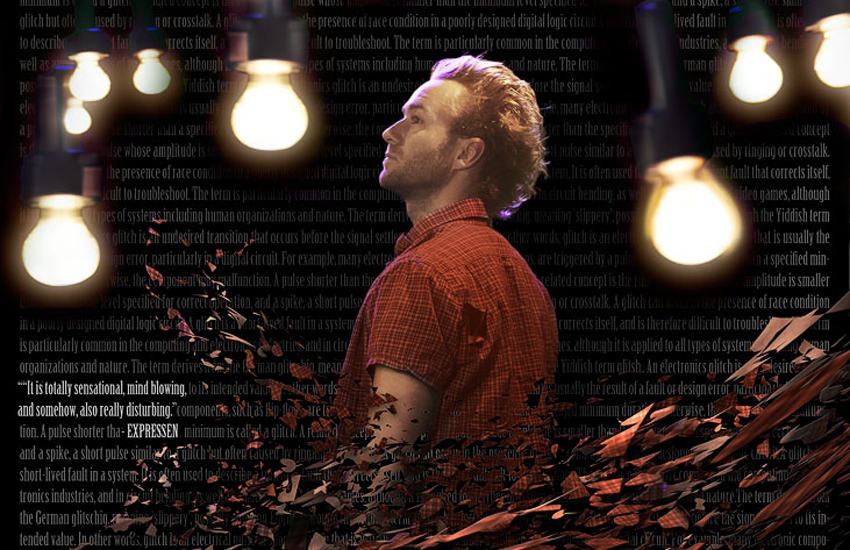 A performance about living life in full. For theatre touring. Age limit: 13 yrs, under 15 accompanied by an adult.
Length: 1 h 20 minutes – Premiere: September 2014 – Director: Stephen Rappaport
Interested in booking GLITCH? Click here for booking information.
Tour dates:
GLITCH plays in Sweden, October 2019
Groningen, Netherlands August 2018
Denmark tour September-October 2015
Subcase February 11 2015 (Bookers/agents only)
Gävle teater 14 & 15 of March 2015
Stockholm 18, 21 & 28 of March 2015
Premiere tour 2014
Excerpts from the media:
"…An experience I do not want to be without."
"…that will without doubt take Johan Wellton to the really big theatres. Do not miss it, whatever you do."
– Västerbottens-kuriren
"It is totally sensational, mind blowing, and somehow, also really disturbing."
"Johan Wellton takes all the yellow balls, axes and light bulbs to completely new levels."
"If you wish to see something you have never seen before, this is your chance. I have never seen anything like it" 
– Expressen
"Spellbinding chaos in Wellton's wild show"
– Hallandsposten
"Touching ball trickery"
"It is very strong and beautiful"
– Gefle Dagblad
This is Johan Welltons most advanced and lavish production ever. With special effects, natural phenomenon and the art of engineering he shoots out for a new and unexplored adventure. All inventiveness and experimental curiosity becomes the framework for a story about our dreams, hope and despair. How far are we willing to go to become loved? To understand ourselves? To find context and a meaning in life?
See one of the world's best jugglers in what may be one of the most advanced and complex shows about something as simple as life itself.
"I want to tell the story about giving a whole life to create a 10 minute long act. What drives a person to such a thing? I want to crash my feel of pure entertainment with a raw, true story from the core of my humanity. And then set the whole thing on  fire."
Take all you've spent your life to achieve in one hand. Then take a big sledge hammer in the other and SET YOURSELF FREE. Nothing is static. Everything is movement. Crush your fine porcelain and crawl out of your shell. We swing. Everything swings. Live life. LET GO.
Official trailer 2015:
Research videos:
Work in progress October 2013

Tests with our prototype spring 2013:

Creative team: Manuscript and idea: Johan Wellton – Director: Stephen Rappaport – Stage manager/rigging: Marcus Björn/Andreas Falk – Light design: Patrik Bogårdh – Sound design: Per Samuelsson – Photo/design: Martin Lundström – Construction: Nils Bleeck, André Emme – Calculations: Felix Repp – Technical support: Joel Jedström – Prod ass: Niklas Karlsson – Costume: Heike Hartmann – Stage drawings: Joachim Von Rost
This project is supported by:
Kulturbryggan, Innovativ Kultur, Stockholms stad, Konstnärsnämnden, Kulturrådet, Innovationsstipendiet, C2 Vertical Safety, Vara Konserthus, cirkör LAB och Subtopia.