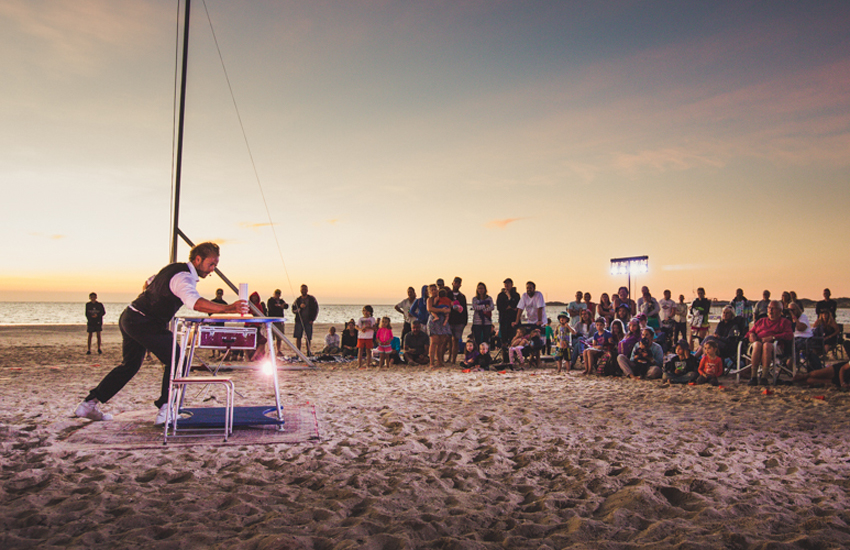 A soloshow for festivals, theaters, galashows and… anywhere really.
Length: Flexible from 20 to 70 minutes. – Idea/creation: Johan Wellton – Premiere: 2005
A dynamic and personal show where Johan Wellton takes centre stage with a mixture of high voltage circus skills and witty comedy, all delivered with a twinkle in his eye. A steamroller show that gets straight to the point leaving the audience grasping for air and their jaws on the floor – Over and over again!
One of the acts that is also part of UNPLUGGED is Johan's original act BOUNCE. Click here to see video etc.
Here are a few reviews and comments from the audience:
"The first part was characterized by Johan's comedy and extremely funny stage-language. He captivated the audience with his acting talent and clever juggling. So astonishing were some of the acts that they left the audience gob-smacked and you could tell he had them in the palm of his hand by the continuous thundering applause!"
– Sundsvalls tidning
"Thank you for a wonderful performance. I almost felt like I was being brought back to the breathtaking theatre experiences of the childhood. Many times I wasn't breathing at all, sometimes I was laughing out loud and sometimes I wanted to help you by screaming watch out! Overwhelmed to say the least."
– Christina Friström, arrangör Örkelljunga
"Saw Johan in Sundsvall this weekend! So goddamn funny stage charachter! Haven't laughed this much for 4-5 years!"
– Bobbo Jäderfeldt
"You made such a success at Haparandas square and we are sooo proud to have had you all the way up North to us!"
– Kristin Tossavainen
"What a show you gave us inUmeå. Charming, with a striking message and an awesome ball control. I think that art and especially art through theatre/meeting/dialogue/show is really something. Not everyone have your capability to present it in such a relaxed, effortless way that is still affecting. You really succeed in this. To contribute to laughter, contemplation and awaken curiosity and emotions of others is an art in itself. A mixture of humor, seriousness and skill – charmingly packaged! You really succeeded in catching the audience on all levels. A really successful performance.
– Ulrika Rigel
"Hello Johan! I just saw your show in Sundsvall. An amazingly great show! I wanted to say hi after but didn't dare to. I am a juggler and have been juggling since 10 years. When I started 2008 you were (and still are) one of my biggest inspirations. The juggling has shaped my life in a really positive way and I have had the chance to meet so many great people and visit unexpected places. I just want to say thank you for being inspiring and for doing what you do. I hope I will dare to say hi next time."
– Filip borglund
"Then like now, with a fantastic ability to adapt to both situation and circumstance. To keep an audience hypnotized for 60 minutes with the only means of some clubs, little balls and confetti requires its man. A simple concept allows the artist to lean back and trust his own ability and in Wellton's case it is remarkable – some of his juggling acts seem to dissolve the laws of physics. Between raving roars many in the audience is laughing themselves short of breath. Here is an experience that gives more than 10 sessions of therapy."
– Lasse Stenman, Haparandabladet
Click here for booking information, press photos etc